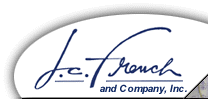 Return
Why Coating Systems Fail

Many factors influence the life and performance of coating systems. Recognizing the exposure conditions and specifying the proper coatings is the first step in obtaining satisfactory coating performance. Specifying adequate surface preparation and coatings, combined with on-the-job inspection during preparation and application, serve to assure the best possible coatings performance.

Broadly defined problems which cause deterioration fall into one or more of the following categories. The environment of the proposed project should be examined to assess the presence of these either separately or in combination.
---
---
Estimate Form | Testimonials | Contact Us | Paint Guru | About Us
Services | Portfolio | E-mail | Home | Links

Web site by Net-Time, Inc.

The contents of this web site are the property of J.C. French.
Copyright © J.C. French 1999-2003